60% off an action packed Video Game Party for 6 kids at Play N Trade! Choose from 3 locations!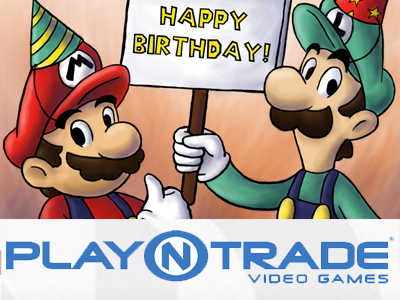 18 Bought / 32 Remaining

Deal Achieved! Keep Buying!
Buy Now
Highlights
Don't miss the opportunity to give your child the coolest party in town!! Let Play N Trade take care of the planning, the set up and the clean up while you sit back, relax and watch the kids have fun! For less than $50, you receive 1 Silver Party Package for 6 children (min)! This package includes 2 hours of playtime in our gamers lounge, drinks for the guests, goodie bags, a $10 gift card for the birthday girl or boy AND $5 gift cards for all their guests!!! This offer is available for redemption at any of our three locations: Courtenay, Campbell River or Duncan. Come Party with Play N Trade!
Fine Print
- Applicable taxes are due at the time of redemption
- For the Silver Party Package Only
- Minimum of 6 guests, maximum of 8
- Applicable for kids ages 6 and up
- Maximum of 1 coupon per person, you may buy 1 for a friend (you can purchase coupons for 2 kids in 1 family)
- Bookings are required, subject to availability
- Available at 3 locations, Duncan, Courtenay & Campbell River
- Expires: September 15, 2013
---
Description
Play N Trade values life's important moments! They want to be part of your child's yearly celebration by offering fun, affordable birthday parties. So instead of the stressful birthday planning, Play N Trade does the work while you get to sit back and relax! Right now, get 60% off a Silver Party Package. This offer is good for a minimum of 6 children (max 8) and cannot be combined with any other offer. Simply call or visit your local Play N Trade today and they will be happy to arrange the whole thing for you. Now that's the coolest birthday party you can give to your child!
Play N Trade is independently owned and operated on Vancouver Island, famously known for video game retailing and committed to provide quality products and incomparable customer service. They make things easier for you so you could have more quality time with your family. They make sure that every experience is a moment to remember!
To book your party, simply call one of the three locations and let us take care of the rest!!!
Company Details
Play N Trade Vancouver Island
Courtenay, Campbell River & Duncan!
1 (877) 768-4349
View on Google Maps
View on Google Maps